HubSpot
Conference Theme
A HubSpot theme designed to promote events: conferences, courses, summits, webinar series, trade shows... etc. Available on the HubSpot Marketplace.
About
The HubSpot Conference Theme is designed specifically to promote an event:
Conferences
Courses
Summits
Webinar Series
Trade Shows
...etc.
The theme has 25+ custom modules that cover all aspects you'll need to promote: agenda, speakers, about, FAQs, pricing... etc.
It also includes 12+ templates that configure those modules into out-of-the-box layouts that you can use to get your website up and running in no time. Want to create your own custom layout using the drag-and-drop editor? No problem, start with the "Basic Page" template or edit any of the existing ones.
Benefits
Simple to use. 100% drag and drop, ready out of the box, no coding needed.
Clean, minimalist design. Inspired by current web design trends and some of the top tech websites out there!
Highly customizable. Update settings across the site with one click (colors, fonts, corners, spacing, forms, buttons... etc.). Use existing layouts or create your own. Update each specific module using the many content and styling fields available.
Responsive. Looks great at any screen size!
Accessible. Because every user is important, the site is designed with best practices such as text alternatives, lazy loading, skip links, aria-labels, keyboard navigation and semantic markup.
Optimised for speed. Built on the HubSpot boilerplate with minimal imagery, images set to resize and lazy load, no jQuery or heavy JavaScript libraries.
Demo
This entire website, hosted on conference.stephanieogaygarcia.com, showcases the Conference theme. Click around the navigation above to explore the different templates:
Theme Details
Price: USD $395
Page Types: About, Blog Post, Blog Post Listing, Contact Us, Event, FAQ, Homepage, Landing, Pricing, Webinar
Page Features: Accordion, Blog Post Listing, Card, Countdown, Event, Hero, Pricing Table, Progress Bar, Slider, Tags
Business Types: Technology, Event Management
Tags: conference, session, webinar series, microsite, training, summit, agenda, tradeshow, rich snippets, speaker, speakers, event, corporate event
🏆
HubSpot Themes Challenge 2021 -
2nd Prize Winner!
This theme is a second prize winner in
a HubSpot theme hackathon
with 900+ participants, meaning it's been deemed to be pretty good by HubSpot themselves 😊
All themes also pass rigorous testing to be approved in the HubSpot Marketplace.
Theme Settings
Plenty of options to customise your theme across the board: colours, fonts, spacing, text, buttons, forms, tables, corners, header and footer...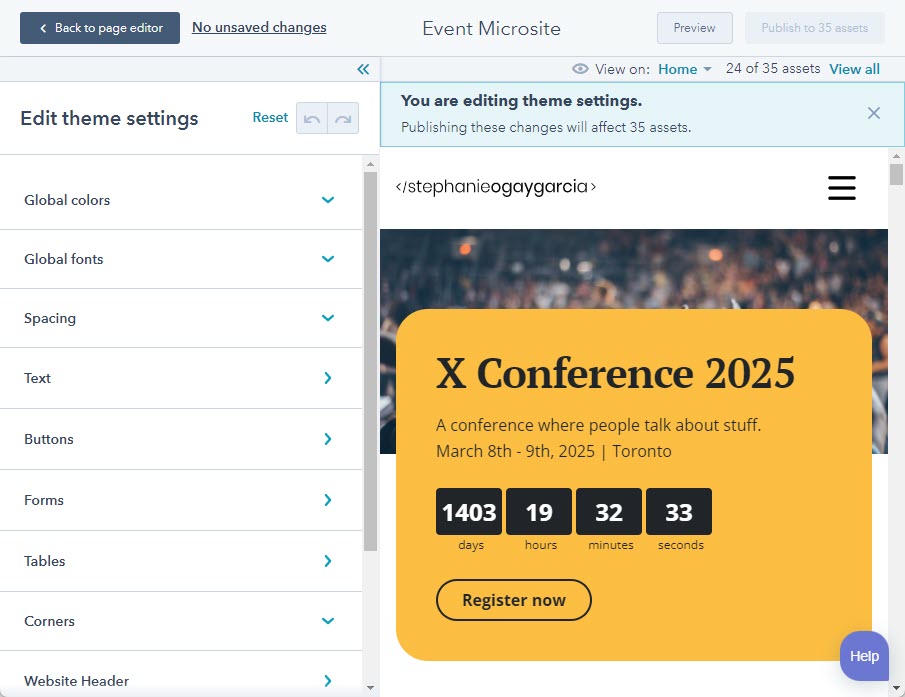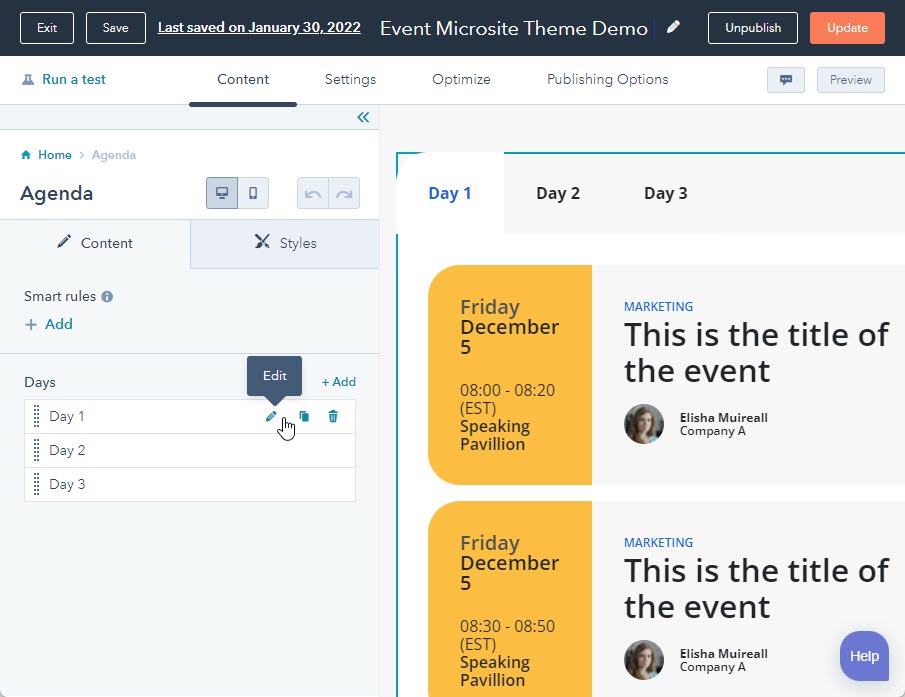 Highly Customizable Modules
Each module has plenty of content and styling fields that allow you to easily update your website in minutes, no developer needed!
Schema / Google Rich Snippets
Where possible, schema markup is included to give you a chance at featuring as a rich snippet on search engines. Some examples include: the Accordion/FAQ module, Blog Posts and Agenda modules.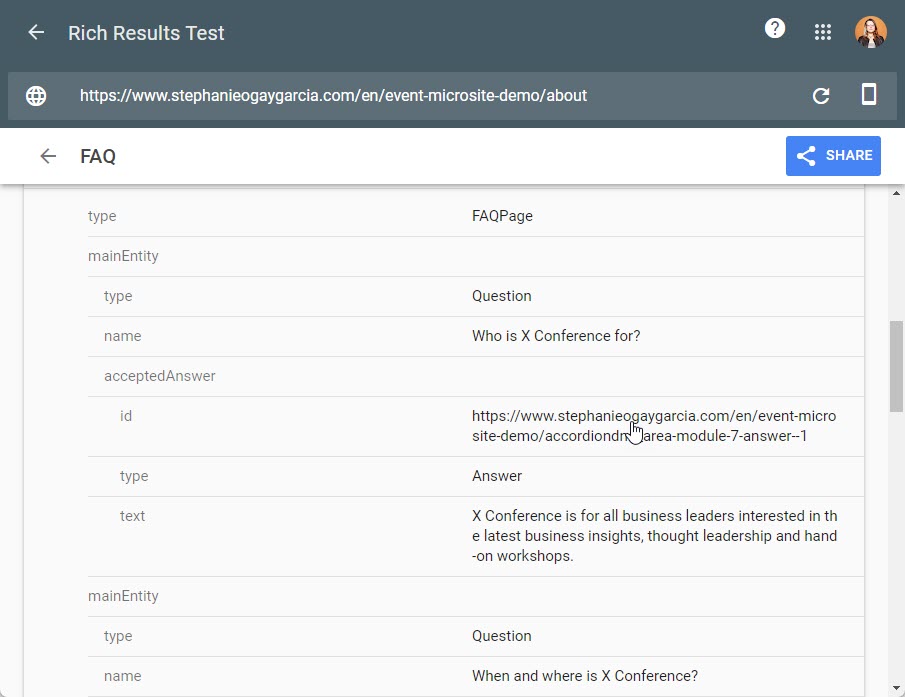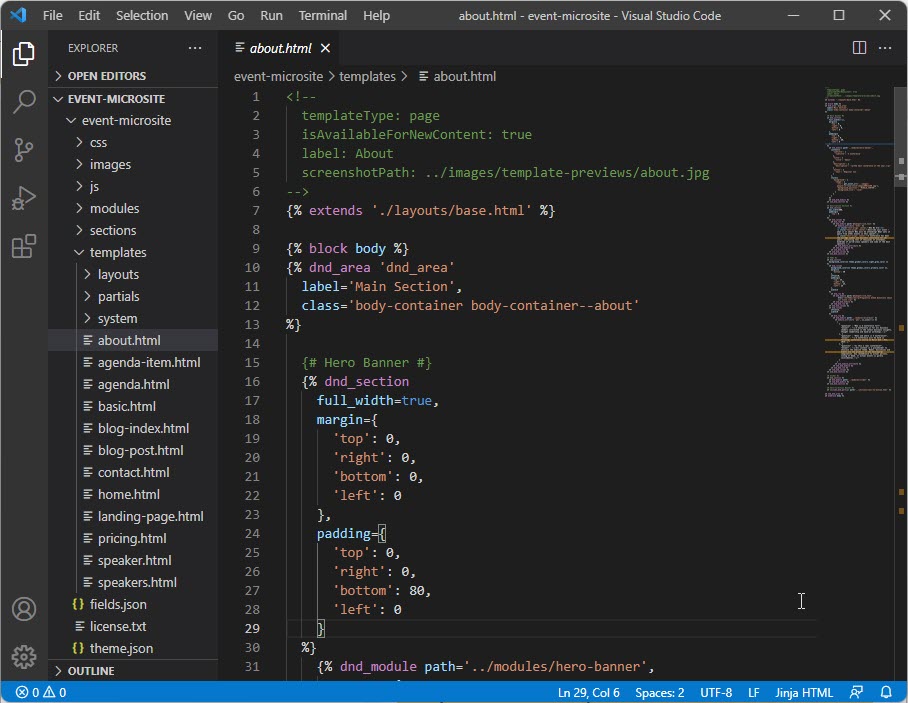 Have a Developer?
The theme uses the HubSpot Boilerplate as a starting point and follows all of HubSpot's best practices. The code is clean, descriptive, organized and even alphabetized so developers can easily add any custom features.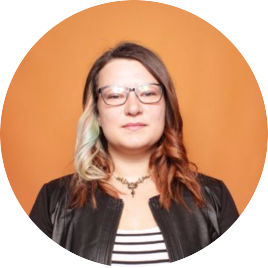 About Stephanie O'Gay Garcia
The HubSpot Conference theme, available on the HubSpot Marketplace, was designed and developed by me, Stephanie O'Gay Garcia.
I'm a freelance HubSpot CMS Developer and former HubSpot Technical Consultant. I've spent the last few years living in the HubSpot CMS so I know it well. I'm a top Solution Author on the HubSpot Community, a HubSpot Champion and official Power User and most quarters I'm among the top HubSpot users!
Every theme I build is with you, the content creator, in mind. My goal is to make sure that you don't need me to create beautiful websites.
Available on the HubSpot Marketplace
Download the theme today through the HubSpot Marketplace.